Your aim is to solve a problem fast and efficient, according to the long-term objectives of your company? In close cooperation with you we develop and realise the most suitable solution.
Starting at your individual situation we form solutions for your company which solve your problems in a tight-fitting way. Every solution is characterised by its freshness and ability of realisation.
To reach this objective, our work is based on three principles which you already find in our name:
- Strategies - Solutions - Services -
Strategies
contain that our solutions are always funded, long-term adjusted and reliable.
Solutions
express our pragmatic and innovative approach and the tailor-made solution for your company.
Services
means that we consider your situation with flexibility and that we are always available to you as your contact. Therefore, TripleS is the consistent consideration of these principles: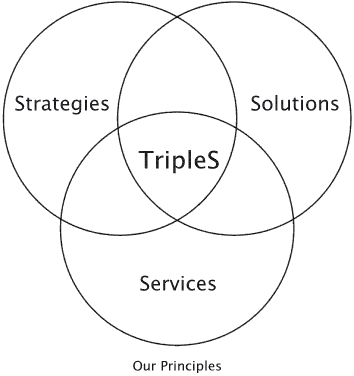 Thereby, we provide you solutions which will be worked out cooperatively and which are based on your objectives and our principles: fresh, tight-fitting and realisable.