The entrepreneurial success is directly connected with the individual strengths of the person or the company. This applies to your and our work.
We work with the four performance components Information, Concepts, Results and Realisation, which we combine individually for every project to a practical solution. Thereby, we offer you the needed performance to solve problems and to form your future successfully.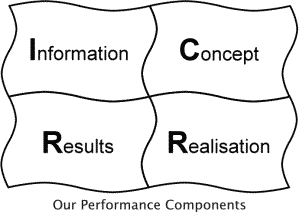 By extensive
Information
and workshops we provide the necessary know-how for your decision making. We provide
Concepts
, plans and strategies enabling you to cope with old and new problems. As a basis for your decisions we deliver the essential
Results
to take the next steps towards your goals. In the
Realisation
phase we support you energetically through an active cooperation and a pragmatic management of your project.
We offer you an individual combination of this components in our three performance areas
Start-up
and
Business Development
. You will find all details to the different areas combined with exemplary performances on the following pages. For the discussion of your individual needs, we can either do a short analysis of the situation, or offer one of our
Solution Packages
. Please
Contact
us.